In this episode, the plot takes a dramatic turn as characters face various challenges and engage in discussions that will shape the course of events in the epic historical drama.
Dark Intentions
A mysterious figure expresses a sinister desire to witness Karan's death, harboring hopes for their ultimate demise.
The Threat of Loft Dayı
Loft Dayı is mentioned as a looming threat, and discussions begin on how to counter his menace. The idea of using fire as a tactic is considered.
Strategy and Deceit
A heated debate ensues on the best approach to stop Loft Dayı, emphasizing the importance of effective strategies and unity. The characters uncover deceit and falsehoods, with someone standing firm against lies.
Urgent Medical Crisis
Selcan Hatun is in critical condition due to severe bleeding. Plans are made to transport her to Tezra for immediate medical attention. A mysterious "trick" and buried treasure are mentioned, adding intrigue.
Stakes Are High
The urgency to stop Alparslan and Kutanmış becomes apparent, highlighting the high stakes in the conflict.
Tensions and Intrigue
Concerns arise about Seferiye Hatun's condition, hinting at a potential plot with dire consequences.
Loyalty and Sacrifice
Alpagut's death and Seferiye Hatun's safety are discussed, emphasizing the price of loyalty and the risks faced by Alparslan's allies.
Revenge and Conflict
Discussions revolve around Alparslan's quest for revenge following Gregori's death, setting the stage for potential conflicts.
Protecting Loved Ones
A plea is made to prevent Rey from seeing Seferiye Hatun, revealing the complex interpersonal dynamics at play.
Political Intrigues
Discussions delve into an agreement concerning Gence and the Selçuklu throne, hinting at political intrigues shaping the state's destiny.
Emotional Turmoil
Alparslan learns about the loss of his unborn child, evoking deep sadness. He opens the palace gates to seek medical help for Hatun, demonstrating his commitment to those under his protection.
Saltanat and Loyalty
Amidst tension, discussions about Saltanat and loyalty persist, and strategic preparations for potential attacks are led by Kurtulmuş Bey.
Throne's Security
Throughout the episode, the security of the throne and loyalty to Alparslan remain central themes. Characters contemplate their actions and alliances in their quest to safeguard the state.
Preparing for Battle
As tension escalates, characters make preparations to confront Gence and its army, engaging in tactical planning while considering potential outcomes of the looming conflict.
Leadership Challenges
Challenges to Alparslan's leadership and questions about loyalty persist, leading to negotiations and threats regarding allegiance. Alparslan seeks loyalty and support as betrayals loom.
Safeguarding Interests
In the complex web of alliances and betrayals, plans to protect the throne and secure the castle are devised. Trust among allies is emphasized as they strive to safeguard their shared interests.
The Upcoming Battle
In the episode's final moments, strategies to deal with Alparslan's army and potential advantages, such as Alparslan's unexpected situation in a marsh, are discussed. The stage is set for an intense and thrilling battle that will determine the fate of the Selçuklu state.
Conclusion
As "Alparslan Buyuk Selcuklu" unfolds with English Subtitles on Osman Online, viewers are drawn deeper into a world of political intrigue, loyalty, and the relentless pursuit of power and control.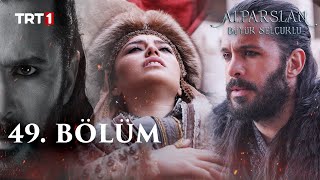 Mar. 27, 2023