Alparslan Buyuk Selcuklu Episode 52: Unveiling Intrigue and Loyalty on Osman Online
Alparslan Buyuk Selcuklu Episode 52 invites viewers to delve deeper into a world of secrecy, betrayal, and unwavering loyalty. This episode of the historical drama, available exclusively on Osman Online, takes the audience on a gripping journey through a tapestry of intricate plotlines and evolving character dynamics.
Uncovering Betrayal and Key Information
The episode commences with a group of individuals engaged in discussions about betrayal and sharing key information they possess. At 01:43, suspense builds as they claim that their words are backed by irrefutable evidence.
Secrets of Castles and Armies
At 02:52, the speaker hints at possessing control over the keys to castles and armies belonging to certain vassals, adding a layer of intrigue to the narrative. The mention of Artuk Bey and a significant duty related to Meryem further deepens the enigma at 03:17.
The Quest for Justice and Control
Justice takes the forefront at 04:42, with a resounding call for it and a mention of Sultan Alparslan's rule. The speaker alludes to holding the key to a castle and emphasizes control over a significant domain.
Focusing on Real Enemies
At 10:10, the speaker stresses the importance of focusing on real enemies, hinting at shifting alliances and ever-evolving loyalties. This theme of identifying true adversaries adds depth to the storyline.
Unity and Divine Role
Unity among individuals and the divine role in guiding their paths take center stage at 16:38. The importance of unity in the face of challenges is emphasized, adding a layer of philosophical reflection to the episode.
Secret Meetings and Romantic Intrigue
The narrative takes intriguing turns with secret meetings between Yürek Yakan and Juli Hatun, discussed at 32:06. At 35:01, Sultan Alparslan's expression of love adds a touch of romance to the drama, revealing the multifaceted nature of the characters.
Preparations for a Military Campaign
As the tension escalates, preparations for a military campaign and strategic planning are discussed at 40:45. The episode underscores the intricacies of military strategy and the challenges of leadership.
Education and the revival of schools become focal points at 42:10. The characters contemplate the importance of knowledge and its role in shaping the future.
Confronting Threats and Seeking Justice
With negotiations and conflicts on the horizon, confrontations between leaders and preparations for an impending campaign come to the forefront. At 51:44, negotiations between Alparslan and Kral regarding the return of castles promise to impact the future.
Alparslan Buyuk Selcuklu Episode 52 is a testament to the show's ability to weave together complex narratives of power, loyalty, and intrigue. Viewers are in for an engaging and thought-provoking episode that promises to unravel secrets and deepen the suspense.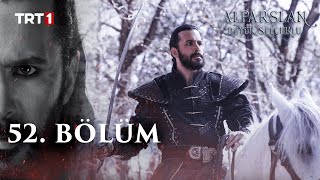 Apr. 18, 2023