Alparslan Buyuk Selcuklu Episode 53: Unraveling Secrets and Loyalties on Osman Online
Alparslan Buyuk Selcuklu Episode 53 continues the saga of intrigue and loyalty, unfolding exclusively on Osman Online. As the plot thickens and alliances shift, this episode promises viewers a riveting and thought-provoking narrative.
A Fight to Save Lives
The episode sets the tone with a discussion about the impending battle, highlighting the urgency of saving the lives of their children. The potential consequences of inaction are explored, adding depth to the storyline.
The Quest for Meryem Castle
The episode introduces a plan to capture Meryem Castle, paving the way for strategic maneuvers and thrilling confrontations. As the need to complete a wall in haste is discussed, viewers are drawn into the intricate preparations for the upcoming events.
Negotiations and Confrontations
Sultan Alparslan's attempts to negotiate with Leon add an element of unpredictability. Plans to reclaim lost territories and defend Meryem Castle are laid out, setting the stage for high-stakes confrontations.
Unveiling Intrigue
The episode introduces intriguing characters like Aksak, the Arabacı (wagoner). The possibility of someone recognizing Aksak and providing vital information is hinted at. As the conversation unfolds, themes of self-reliance and secrecy emerge, creating a sense of mystery.
Tensions and Alliances
Tensions rise with news of enemy movements near the castle, featuring a formidable force led by Kral Bakrat. A plan is devised to defend the castle, while Emir Hazretleri's arrival boosts morale. Loyalty and deception come into play as Meryem is instructed to deceive Alparslan.
Unraveling Mysteries
A mysterious woman divulges details about her late husband and his involvement in illicit activities, adding layers of complexity to the narrative. Plans to release the woman and uncover the truth are discussed, setting the stage for further intrigue.
Clash of Motives
Tensions between Alparslan and Kavut Bey take center stage as their motives and actions are scrutinized. The episode delves into the intricate dynamics of power and loyalty, offering viewers a glimpse into the characters' evolving allegiances.
Alparslan Buyuk Selcuklu Episode 53 is a captivating chapter in this historical drama, promising viewers a rollercoaster of emotions, suspense, and unexpected alliances. Watch as secrets unravel and loyalties are tested on Osman Online.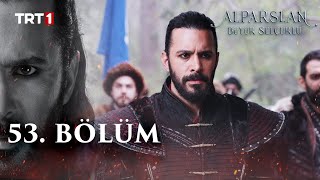 Apr. 25, 2023