In the latest episode of Alparslan Buyuk Selcuklu, tensions run high as the characters grapple with accusations, secrets, and the pursuit of justice. The episode, exclusively available on Osman Online, takes viewers on a rollercoaster ride of emotions and intrigue.
Avar Bey's Trial and Confessions
The episode kicks off with Avar Bey facing serious accusations, including the abduction of Sabbians and the murder of innocent people. However, Avar Bey claims that he was merely following orders. As the trial unfolds, shocking confessions come to light. Avar Bey admits to killing a woman who was set to reveal crucial information in court. To deceive the court, he replaced her with another person. Sultan Alparslan decides that Avar Bey must stand trial and testify in front of the woman and the public.
Tensions and Consequences
The trial of Avar Bey creates a rift among those who believe his actions were necessary for the state's survival and those who seek justice for the victims. The outcome of the trial will have far-reaching consequences, impacting the delicate relationship between the Seljuks and the Byzantines.
Unveiling Secrets
As the episode progresses, the plot thickens. Suspicion and intrigue surround a murder in the dungeon, and there are discussions about covering up the truth. Avar Bey seeks Sultan Alparslan's help to prevent Karahan from claiming the throne, leading to a complex web of political maneuvering.
Pursuit of Truth and Justice
Amidst the turmoil, the characters are determined to pursue the truth and uphold justice. Archery training serves as a metaphor for accuracy and concentration, emphasizing the importance of not losing sight of their ultimate goal.
Avar Bey's Redemption
Avar Bey's redemption arc takes center stage as plans are made to clear his name and gather evidence to prove his innocence. The commitment to justice and meritocracy is a recurring theme throughout the episode.
Unveiling Conspiracies
Conspiracies unfold, with plots against Sultan Alparslan coming to light. The characters must navigate a web of intrigue, and the stakes are higher than ever.
The Power of Truth
The episode culminates in a powerful proclamation, declaring Sultan Muhammed Alparslan as the Sultan of the Karahanlı State. The pursuit of truth and justice drives the narrative, and the consequences of concealing the truth are starkly highlighted.
In Episode 54 of Alparslan Buyuk Selcuklu, secrets are unveiled, accusations fly, and justice hangs in the balance. As the characters grapple with the complexities of their world, viewers are in for an emotional and suspenseful journey, available exclusively on Osman Online.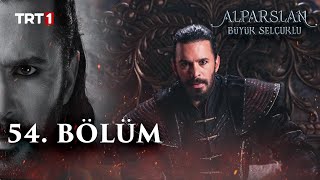 May. 01, 2023