In the latest episode of "Alparslan Buyuk Selcuklu," viewers are taken on a gripping journey filled with political intrigue, strategic planning, and a relentless pursuit of justice. As the tension escalates, the need for unity and patience becomes increasingly evident.
Challenges and Caution
The episode kicks off with discussions emphasizing the importance of patience and unity, especially in the face of imminent danger. Past actions against Christians raise concerns, prompting characters to exercise caution.
Mysteries Unfold
At 14:12, a suspicious item is discovered, hinting at a potential link to the attackers. Justice and fairness are emphasized throughout the episode, transcending religious boundaries. As discussions revolve around identifying the perpetrators of recent attacks, the call for unity among Christians becomes a focal point.
Preparation and Protection
Plans to complete work on a protective wall are discussed at 42:14, reflecting the commitment to safeguarding the city. However, distrust and concerns about potential deceit and betrayal loom large at various points in the episode.
Political Maneuvering and Campaigns
Political maneuvering and potential conflicts with Alparslan take center stage at 51:31. Meanwhile, preparations for a siege on Constantinople are in motion, with discussions about troop deployments and Alparslan's intentions.
Emotional Depth
The episode is rich in emotional conversations between characters, providing a glimpse into their motivations, fears, and aspirations. Viewers witness heartfelt exchanges that further humanize the characters.
Key Moments
Several key moments stand out, including a castle defense strategy, a surprise attack by non-Muslims, negotiations between Alparslan and Kral Bagrat, and the construction of a significant architectural project.
Unity and Secrecy
Throughout the episode, the themes of unity and secrecy persist, underscoring their vital roles in the unfolding events. Characters grapple with the challenges of maintaining composure in the face of adversity.
Future Developments
As tensions rise and plans for military campaigns are set in motion, viewers are left on the edge of their seats, eagerly anticipating the next episode's revelations.
Stay tuned for the latest developments in "Alparslan Buyuk Selcuklu," available exclusively on Osman Online. The journey of power, intrigue, and justice continues, promising more twists and turns in the epic saga.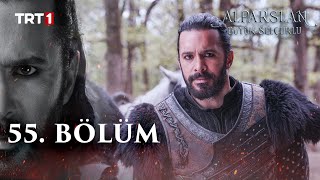 May. 08, 2023