In the latest episode of the riveting historical drama series, "Alparslan: Büyük Selçuklu," viewers were treated to an intense and emotionally charged storyline that left us on the edge of our seats. The episode delves deep into the intricate web of politics, alliances, and personal ambitions that define the world of Sultan Alparslan and his Seljuk empire.
The central plot point revolves around a shocking act of betrayal that threatens to upend the delicate balance of power within the Seljuk state. Avar, a trusted figure within the court of Alparslan, commits a shocking act of violence that leaves the Sultan gravely injured. The scene is a testament to the high-stakes drama that defines this series, as Artuk and Atsız, two loyal figures, immediately apprehend Avar, raising questions about his motivations and loyalties.
As Alparslan grapples with his injuries and the implications of Avar's actions, viewers are left in suspense, wondering how he will respond to this betrayal. Will he interpret Avar's actions as a clear act of treachery, or will he dig deeper to uncover the possibility that Avar's mind may have been manipulated by external forces, such as the enigmatic Leon?
Meanwhile, the political landscape within the Seljuk empire becomes increasingly complex. Kavurd, seizing the opportunity presented by Alparslan's incapacitation, begins to lay the groundwork for his own ascent to power. He cleverly employs manipulation, convincing Seferiye that his actions are aimed at easing Alparslan's administrative burden. The tension in these scenes is palpable as we witness the lengths to which characters will go to achieve their goals.
Questions loom large over whether Kavurd's intricate plans will come to fruition and whether Nizamülmülk and Seferiye will discern his true intentions. The suspense is heightened by the possibility that Alparslan remains unaware of the unfolding political machinations, leaving us eager to see how he will react when he eventually learns the truth.
On the Byzantine side of the narrative, the return of Diyojen introduces a new layer of complexity. Diyojen's presence threatens to disrupt the established order and alliances. Leon, faced with the challenge of Diyojen's return, must make a critical decision. Will he collaborate with the representative sent by Emperor Dukas, or will he prioritize his own ambitions and authority within the Byzantine Empire?
The episode tantalizingly hints at a larger intrigue involving Diyojen and Emperor Dukas, leaving viewers eagerly anticipating future developments in this Byzantine subplot.
In summary, "Alparslan: Büyük Selçuklu Episode 55" continues to deliver high-quality storytelling, characterized by intricate character dynamics, political maneuvering, and moral dilemmas. As the series progresses, it keeps viewers enthralled with its engaging narrative and leaves us with numerous questions and cliffhangers that set the stage for what promises to be a riveting continuation of the story. Be sure to stay tuned to Osman Online for the latest updates and episodes of this compelling historical drama.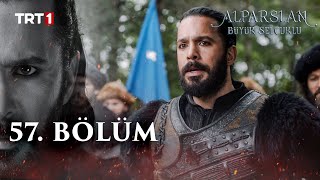 May. 22, 2023