In the latest episode of "Alparslan: Büyük Selçuklu," the tension and drama continue to escalate as the power struggle between Alparslan and his adversaries takes center stage. The episode opens with Alparslan having unraveled Kavurd's treacherous plot and promptly taking action to bring him to justice.
Kavurd, driven by his insatiable ambition, seeks to wrest power from Alparslan, and this clash of ambitions becomes a central theme throughout the episode. As Alparslan works to thwart Kavurd's schemes, the two engage in a high-stakes battle of wits and wills, with the fate of the Seljuk state hanging in the balance.
Meanwhile, Seferiye, one of Alparslan's loyal allies, finds herself ensnared in a precarious situation orchestrated by Vezir Hüsameddin. Alparslan becomes determined to rescue Seferiye and bring Hüsameddin to justice. To aid him in this endeavor, a mysterious figure emerges, extending a helping hand to Alparslan's cause. Questions arise about this enigmatic ally's true identity and motives, adding further layers of intrigue to the unfolding narrative.
On the Byzantine front, Diyojen, acting under Emperor Dukas's orders, arrives in Ani, significantly shifting the balance of power. Leon, who has been a key player in the Seljuk-Byzantine dynamic, must now contend with Diyojen's presence and influence. The episode explores the dynamics between these characters and raises questions about alliances, loyalties, and the potential impact on the broader geopolitical landscape.
As tensions rise and power plays intensify, Alparslan faces critical decisions and challenges that will shape the future of the Seljuk state. The episode leaves viewers eagerly anticipating the next developments in this gripping saga.
For fans of "Alparslan: Büyük Selçuklu," the series continues to deliver captivating storytelling, intricate character dynamics, and unexpected twists. Stay tuned to Osman Online for the latest updates, discussions, and analysis of this thrilling historical drama.
Don't miss a moment of the action and drama as "Alparslan: Büyük Selçuklu" airs every Monday on TRT 1. Join the conversation and share your insights into this captivating series with fellow fans.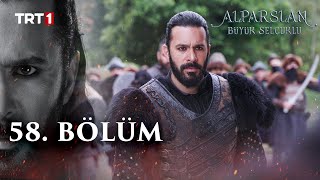 May. 29, 2023