The latest episode of "Alparslan: Büyük Selçuklu" is a rollercoaster of political intrigue, marriage negotiations, and strategic maneuvers. As the plot thickens, viewers are drawn into a world of power struggles and alliances. Let's delve into the key moments of this gripping episode.
Marriage Negotiations and Political Alliances
The episode opens with Alparslan engaging in marriage negotiations with the Armenian Princess Kürige. These discussions are at the heart of the episode, highlighting the delicate balance of power between the Seljuks and the Armenians. The potential consequences of this union loom large, adding an element of tension to the narrative.
A Poisonous Plot Unfolds
Avar Bey, a character who has been central to recent events, falls victim to poison, raising suspicions of a diyojeni plot. As the intrigue deepens, tactical plans are hatched to counter the approaching Roman army. The stakes are high, and every move is carefully calculated.
Revenge and Surprise Plans
Prens Luiza, seeking vengeance for her father's death, adds another layer of complexity to the story. A surprise plan involving Adrian and Prens Luiza is hinted at, promising more unexpected twists in the episodes to come.
The Siege of Kayseri
The episode showcases the meticulous planning of the Turkish forces as they lay siege to Kayseri. Despite facing challenges like a lack of essential supplies, they employ cunning strategies to deceive the Armenians within the city walls. The tension rises as the Turkish army effectively traps Kayseri's defenders.
The Unwavering Resolve of Alparslan
Throughout the episode, Alparslan's leadership and determination shine through. His unwavering commitment to the cause is evident as he motivates his troops for the upcoming battle. The final confrontation is imminent, and Alparslan is resolute in his pursuit of victory.
In summary, "Alparslan: Büyük Selçuklu" Episode 59 is a masterful blend of historical events, political intrigue, and strategic warfare. Viewers are in for a thrilling ride as the plot unfolds, with each episode offering new surprises and challenges for our beloved characters. Stay tuned for the next installment of this captivating series on Osman Online.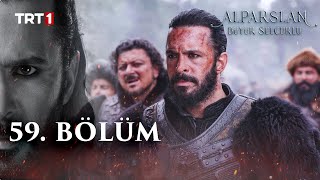 Jun. 06, 2023